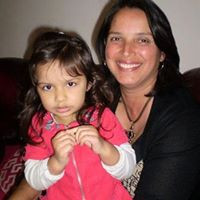 Sweet Dreams Infant Massage is run by Midge Fijac, a Pediatric Massage Consultant with a passion for helping new parents communicate with their new born bundles of joy.
She has a deep belief in providing holistic approaches to improve the physical and spiritual well being of her clients.
Midge became interested in Infant Massage Therapy after a successful, but hectic 15 year carer in corporate sales, which saw her hold senior positions both in Australia and abroad.
In a bid to find a more fulfilling and spiritual undertaking, she became an aromatherapist masseuse, quickly finding the knack for being able to provide her clients welcome relaxation and respite from the daily grind.
I have had a love of babies for as long as I can remember and being the second youngest of a large family of 8 children I found myself on babysitting duties on several occasions from a young age, which I totally loved.
Soon after, her love of babies and a passion for homeopathic treatment made the calling to become an Infant Massage Therapist a natural choice for Midge.
Today, her work embraces the power of a nurturing touch to promote a deeper sense of bonding between parent and child.
I love being able to provide new parents with the confidence to communicate with their new children and help them cope with discomfort issues like gas, colic and constipation.
If you you would like to learn how you can help your baby relax and connect physically, mentally and emotionally through the power of touch then call Midge on 0422 607 873 or leave a question at our Contact page.